Telegram FX Copier Vs Telegram Signal Copier
In this blooming era of trade copiers, it is hard to find the best forex trade copier. Well, WORRY NO MORE! We will break down all the features of Telegram FX Copier and Telegram Signal Copier.
In this article, we have discussed in detail about the features of Telegram FX Copier and a deeper comparison with Telegram Signal Copier.
Let's dive into how YOU can trade in the world's largest financial market with ease. 😉
What is forex copy?
Forex copy means you can copy another trader's positions and make profit with the help of a copy trade software.
How does telegram copier work?
Copy trade software allows users to automatically copy trades shared and maintained by others in the financial markets. In contrast to Mirror trading, copy trade software allows traders to copy activities from a Telegram Forex signals provider.
Therefore, any and all sorts of trading updates shared by your forex signal provider, such as entry price, stop-loss and take-profit, or closing half/full is copier to your MT4/MT5 account with the help of a forex trade copier. So, selecting the best forex copier amongst others is a crucial part. We are here to help you select the best forex trade copier.
Short Comparison
Telegram FX Copier VS. Telegram Signal Copier
Traders who wish to start trading without investing a lot of time and money have found copy trade software to be quite useful. Nevertheless, the progress of this copy trade software encouraged others to develop their own versions, resulting in some uncertainty as to whose copy trade software is best.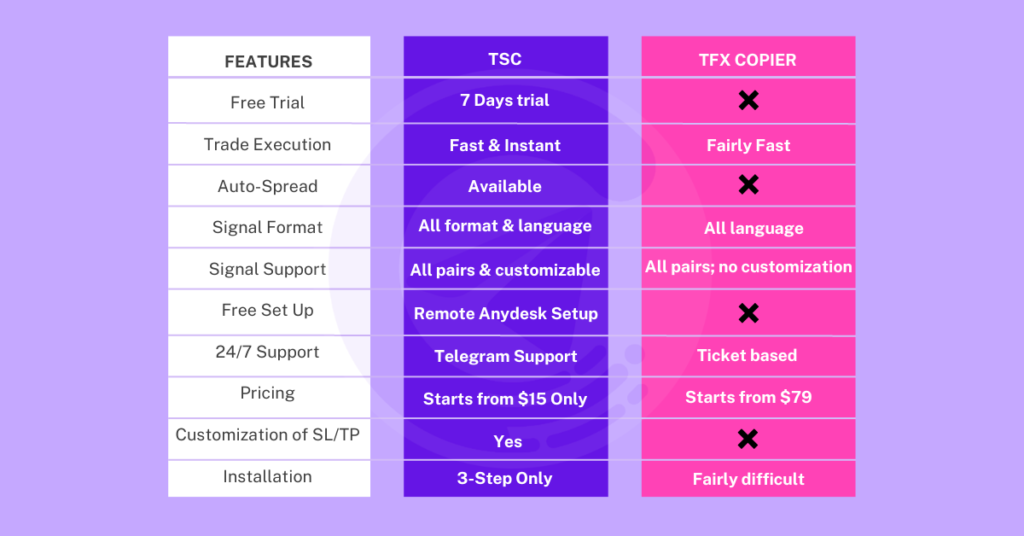 Why Use Telegram Copier?
1. To Save Yourself Time
It saves a lot of time to be able to automatically copy trades from multiple forex channels at the same time. Trying to learn trading while working a 9-5 simply doesn't leave the average person with the time to constantly check their phone for trades. It's impossible to manage trades, check for updates, close at the right time, and monitor 10+ trading channels at once.
Telegram Signal Copier will take that stress off of you with minimum supervision needed- potentially saving you hours of time.
2. Trade Prop Firm Capital
Additionally, companies like MyForexFunds, FTMO, FundedNext offer traders huge amounts of capital. You could copy profitable trades from a Telegram channel onto a funded account.
Say, for example, you copy trades from a channel that averages 8% a month. In the long run, this is a huge return and will certainly grow nicely if you let it compound.
However, imagine that return on $100,000 of trading capital. Instead of trading just your own account balance, you could have a $50,000 MyForexFund account (instant funding) and a $50,000 BluFx account or $50,000 Fundednextexpress model and make yourself $8000 monthly. 🤑
In my opinion, Telegram Signal Copier is the best way to scale your trading capital by using prop firms and taking advantage of their funding options.
Detailed Comparison
Telegram Signal Copier
Telegram FX Copier
1
Telegram signal copier has 7 Days Free Trial Option
No trial available
2
Telegram signal copier can copy all formats of signals and all languages. It does not matter, whether it's an image or SL/TP is not arranged.
For more details, you can check this video 👉 TSC Copies All Signals
Telegram Forex Copier reads all the formats of Telegram signals.

3
Telegram Signal copier has the customization option to trade a specific pair of your choice.

For example, if you want to trade GOLD (XAUUSD), include this in their copier settings.
On the other hand, Inclusion option is not available
4
Telegram signal copier installation is only three clicks process. Check it our from our resources.
In contrast, Fairly difficult installation process.
5
Telegram signal copier has auto spread calculation. Even, when your signal services updates SL/TP later, the spread will be calculated by this telegram trade copier.
TelegramFXCopier does not have such a feature, so there's a chance to hit SL before they do.
6
Telegram signal copier supports both MT4 and MT5
Telegram FX Copier supports both MT4 and MT5
7
Telegram signal copier has dedicated 24/7 free Telegram customer support.
In contrast, Website Livechat- slow and unexperienced support.
8
Moreover, in the telegram signal copier, you can set your close half/partial amount according to your choice. Or choose which one to take.

This feature will help small trading accounts i.e. $100-500.
No modification of close half/partial available. It will copy only the updates from your forex telegram channel
9
You can configure every symbol, commands and customize right from TSC app. Hence, no need to set it in the Meta Trader EA.
You will need to set everything in the EA, which makes things complex.
10
You will get the trial option with the Telegram signal copier and the subscription starts only with only $39 for 30 days.
Eventually, you will get 37 days with a Telegram signal copier for $39.
On the contrary, no trial option with Telegram FX Copier and you will have to purchase lifetime for $79
11
Furthermore, TSC can easily copy edited messages from your telegram forex signal channel.
For example, if your provider sends a trade first and then, edits that message to update SL, TP instead of replying, our TSC copier will instantly copy into your MT4/MT5 account.
However, Telegram FX Copier does not have such feature.
12
Telegram Signal Copier can copy from MANARA FX.
In contrast, Telegram FX Copier cannot copy from EA
13
Telegram Signal Copier can copy from your INDICATOR too! 😉
Unavailable on Telegram FX Copier
14
Comparatively, Telegram Signal Copier has faster and instant execution of signals due to the advance mechanism of TSC software.
Indeed, Telegram FX copier has fast execution but, due to the software is depended on the MQL4 to fetch data, it can be slow at times..
Review of Telegram Signal Copier – What do traders think?