Telegram Copier VS. Telegram Signal Copier
A Telegram trade copier explains everything you need to know about copying signals from Telegram signal copier to mt4 platforms.
Additionally, Users can not only follow the signal provider's instructions, but they can also make their own strategies by choosing which trading signals to use. And users can set their own money and risk management.
Whether you're on the road or asleep, you can be sure that Telegram To Mt4 is taking care of your trades.
In other words, Telegram trade copier will look at the trading signals you get on the Telegram channels you choose and send them to your Telegram to MT4 account.
On this article, we will compare two of the leading and advanced Telegram Trade Copiers present in the market: Telegram Copier VS. Telegram Signal Copier.
So, Let's dive in!
Short Comparison:
The automated copier niche has progressed finely in these recent years, with companies inventing and improving their features as best as they can.
Amongst many features of Telegram Copier and Telegram Signal Copier; here are their key elements compared below-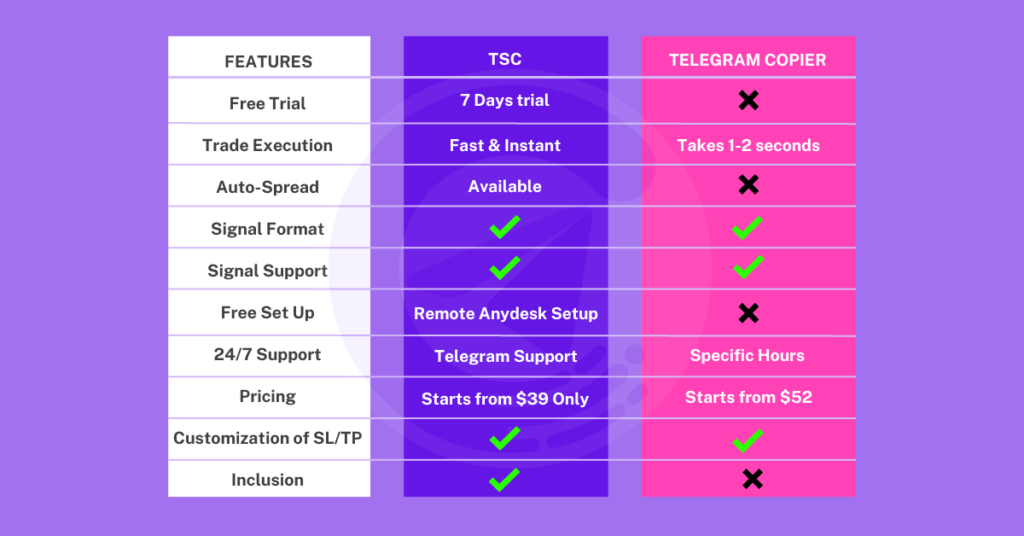 Let us know in the comment section below about what you think who wins here? 😉
Detailed Comparison:
Telegram Copier vs. Telegram Signal Copier
No.

Telegram Copier

Telegram Signal Copier

1.
No trial available in Telegram copier.
Telegram signal copier has 7 Days Free Trial Option.
2.
Telegram Copier can copy all formats of signals and language.
Also, Telegram Signal Copier can copy all formats of signals and all languages. You can check this video to see how this works. you can check this video 👉 TSC Copies All Signals
3.
Telegram Signal Copier does not have a specific trade pair inclusion option available in their EA.
Telegram Signal copier has the customization option to trade a specific pair of your choice.

For example, if you want to trade GOLD (XAUUSD), include this in their copier settings.
4.
Telegram Copier does not include an Auto Spread option which will automatically add your broker's spread to entry price, and SL.
Telegram signal copier has auto spread calculation. Even, when your signal services updates SL/TP later, the spread will be calculated by this telegram trade copier.
5.
Telegram Copier support is available on Telegram for a specific time.
Telegram signal copier has dedicated 24/7 free Telegram customer support.
Reach us out 24/7 through telegram support!
6.
You can't try Telegram Copier before you buy it, and you'll have to pay $52 for a 1 MT account license for one month and $125 for one lifetime license.
With the Telegram signal copier, you can try it out for free, and a 30-day subscription costs only $39.
In the end, a Telegram signal copier will cost you $39 and give you 37 days.
7.
Telegram FX Copier, on the other hand, does not make changes if a signal has been edited or modified later by your signal provider.
Furthermore, TSC can easily copy messages from your Telegram forex signal channel that have been modified or edited
For example, if your provider sends a trade first and then edits that message to change SL and TP without replying, our TSC copier will immediately copy that trade into your MT4/MT5 account.
8.
Telegram Copier is able to copy signals from telegram signal channels only.
Telegram Signal Copier can copy from indicators such as MANARA FX. Learn more from this blog ➡️ Can TSC copy Manara FX signals?
9.
Not available
Telegram Signal Copier can copy from your INDICATOR too!
One copier for all solutions!😉
10.
Telegram copier execution rate is slower than TSC.
Henceforth the software is depended on the MQL4 to fetch data, it can be slow at times.
Comparatively, Telegram Signal Copier has faster and instant execution of signals due to the advance mechanism of TSC software.
11.
Telegram Copier does not offer a free setup or free tech support.
Telegram signal copier offers free setup after your purchase. And copier support for as long as you need!
Final Verdict:
Comparatively, the Telegram signal copier has much more to offer in terms of price and service. We have better prices and can tailor them to your needs.
Undeniably, try Telegram Signal Copier, if you are new to the forex market and want to start trading with $100 or if you are a big player looking for a passive income stream. This will give you the freedom to choose and let an automated system or telegram forex copier take care of your forex accounts. You will be able to choose the forex signal that works best for you.
Leave a comment down below about which trade copier do you think won? 👊