Prop Fund Challenge: FTMO Review 2022
What is FTMO?
FTMO is a prop fund company (Proprietary Trading Firm) that allows qualified traders to trade with the company's funds in exchange for a percentage of the profit.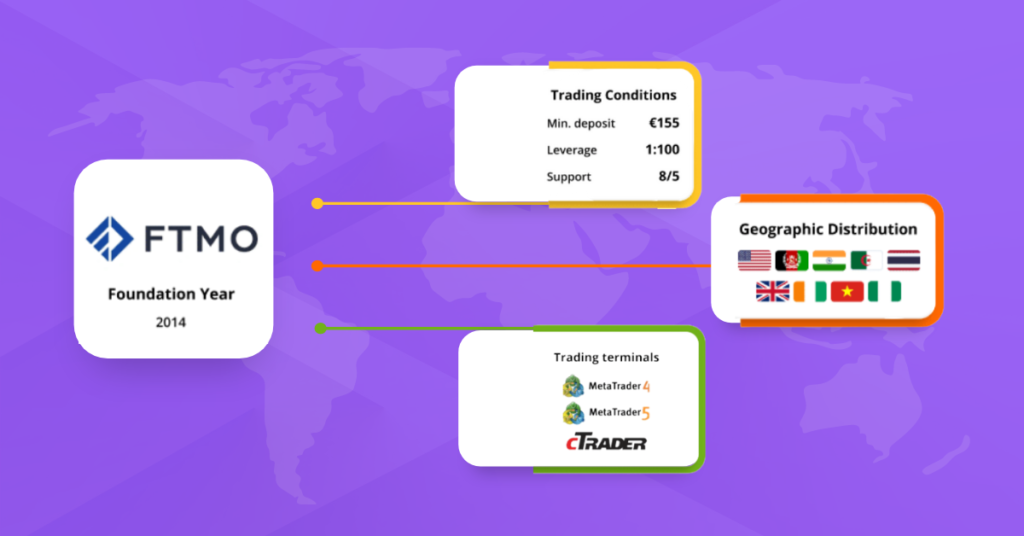 The FTMO qualification process for traders is two steps:
1. The FTMO Challenge Phase is a basic assessment of a trader's skills and discipline. Participants in the challenge must pay a subscription fees that vary depending on the account size, leverage, and risk mode chosen.
2. The FTMO Verification Phase is the second step after successfully completing the challenge. The rules are similar to the Challenge rules, but with a longer time interval and half the profit target.
The prop fund company has a good reputation for creating trading apps and providing excellent customer service.
What happens after verification phase?
Users are offered a professional account once this process is completed successfully. Traders can then manage up to 400,000 USD remotely with leverage up to 1:100 and continue growing the account in accordance with the scaling plan.

Even as professional trader, users technically trade on a demo account at all stages of the process. The FTMO account is linked to the firm's real-money trading account.
How do you profit?
The first stage of real trading pays 80% and each following stage pays 90%. Consequently, all successful FTMO traders are paid up to 90% of their monthly profits. They are also eligible for a 25% capital increase every four months with no cap.
What does FTMO has to offer?
If you want to try before you buy, you can do so with a free trial challenge. This 14-day trial allows you to experience the Challenge and hone your skills.
FTMO offers a variety of trading instruments including forex, commodities, indices, cryptos, stocks and bonds as well as multiple platforms such as MetaTrader 4, MetaTrader 5 and cTrader.
All accounts provide leverage of up to 1:100 and access to over 100 FX pairs, including USD/EUR and USD/GBP, as well as cryptos such as Bitcoin (BTC) and Ripple (XRP), stocks, bonds, indices such as the US30, and commodities such as gold (XAU/USD).
Every account comes with its own set of trading tools and apps, including the Account Metrix, Mentor Application, and Equity Simulator. These tools, which are only available to FTMO traders, can help you monitor and improve your performance.
Account Types:
Accounts are divided into 10k, 25k, 50k, 100k, and 200k challenges. Except for the 200k challenge, which has only the normal risk level, each challenge has a risk level (Normal or Aggressive). You can choose your own choice of currencies.
Consider your trading strategies and experience when deciding which level to pursue. The Aggressive account allows for larger losses but has higher profit targets. The 10k Prop Fund Challenge costs €155, while the 200k Challenge costs €1080.
You can open multiple accounts, but the maximum initial capital allocation for FTMO is $400k (or $200k for Aggressive accounts). This means you could have two accounts worth $200,000 or four accounts worth $100,000. Scaling does not contribute to the initial capital allocation total.
Please keep in mind that you must pay for and complete the Challenge for each new account.
What payment methods are available?
You can pay for the FTMO Challenge via bank wire transfer, debit/credit card, cryptocurrencies, Google Pay or Skrill.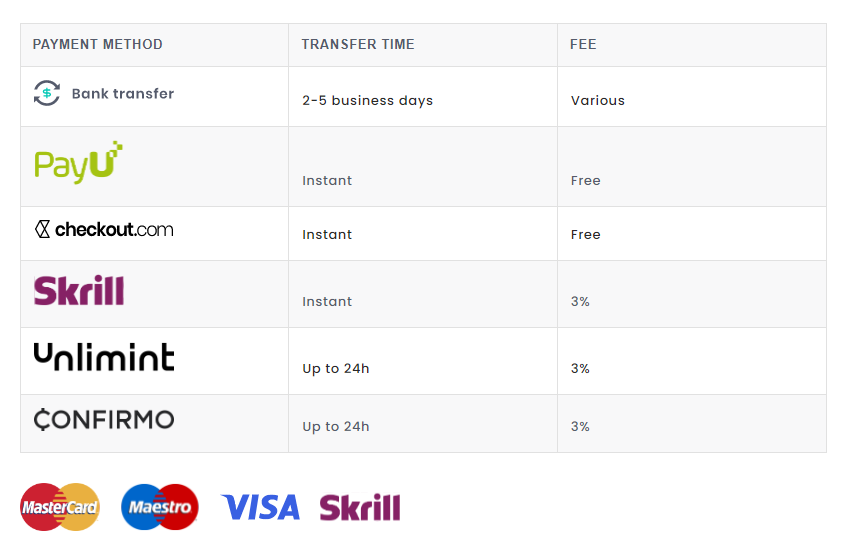 Trading Objectives
Each account type has its own set of rules that you must follow in order to progress to the next stage. These goals include a maximum trading period of 30 days, a minimum trading period of 10 days, a maximum daily loss, and a profit target of 10% or 20%, depending on your risk level.
You can advance to the next stage if you reach your profit target before the maximum trading period expires. If you miss the profit target but do not violate any other rules, such as exceeding the maximum daily loss, you will be given a free second chance to complete the challenge.
Verification follows the same rules as the Challenge, but with a 60-day maximum trading period and half the profit target. Again, if you fail the FTMO Verification by missing the profit target but don't break any other rules, you can repeat the challenge for free.
Which instruments or strategies are allowed to use?
It is entirely up to you to choose your trading style. There's no limit or restriction for trading strategy, whether discretionary trading, hedging, algorithmic trading, EAs, or anything else as long as it is legal, conforms to real market conditions, and you can replicate your trades on our live corporate accounts.
You can trade all of the instruments and assets available on your trading platform (Forex, Indices, Commodities, Stocks, Crypto, and so on).
Here, you have complete freedom.
If you intend to use trading robots (Expert Advisors – EAs), keep in mind that if you use an EA from a third party, other traders may be using the same EA and thus the same strategy as you. You can find out more about the rules from this link- https://ftmo.com/en/faq/
Become A Funded Professional Trader
Once you have successfully completed all the requirements in the evaluation process, you will be able to invest professionally with the FTMO prop fund. You will need to carry out standard KYC checks to get paid.
As a professional trader you must follow the same loss rules, but there is no maximum trading period, no profit target, and no minimum trading days. Professional users keep 70% of profits made on their account.
Note, your positions are copied onto the proprietary trading firm's live investing account with real capital.
Scaling Plan
If you are profitable in your trading, you can use FTMO's growth plan to receive a 25% capital increase every four months. To be eligible for an increase, you must have made at least 10% in profits over the last four months (an average of 2.5% profit per month), with two of the four months ending in a positive manner.
The scaling plan has no upper limit; after a year and a half of successful trading, you could be managing up to 600,000 dollars.
How do I withdraw my profits?
The Profit Split on the FTMO prop fund account is done on a monthly basis by default, with the option to place a payout on-demand after a period of 14 calendar days from the first placed trade on the account.
The payouts are processed within 1-2 business days upon confirming the invoice. You can receive your profits by a regular bank wire transfer, Skrill or cryptocurrencies. Minimum closed profit requirement of at least $20 for bank wire and $50 for crypto payouts, to cover the cost of a transaction.
Other account conditions to consider are:
There is no maximum lot size.
All common trading tools, such as stop losses and candlestick charts, are available.
On FTMO, you can trade using any strategy, including scalping, hedging, and EAs.
The two-hour rule states that users cannot hold trades over the weekend or during long market breaks. If the rollover is less than two hours, you can keep your positions overnight.
Make sure you are aware of your chosen market's trading hours and holiday sessions. Most cryptocurrencies, such as Bitcoin, have extended trading hours.
Be cautious when trading the news. Check the firm's economic calendar to see when these occur, and use a time zone converter if necessary.
Pros
Benefits of opening an FTMO account include:
Free trial challenge
You keep 70% of profits
Comprehensive customer support
Classic platforms such as MT4, MT5, and Ctrader are familiar to many traders. For these platforms, hundreds of indicators, scripts, and advisers have been developed.
You invest with FTMO funds, not your own
Tutorials, Q&As, webinars and discounts on partners' educational websites
Profitable traders can increase their capital by 25% every four months with the scaling plan
Quite low testing cost is €155.
Diversification of tariff plans. Candidates can choose a demo deposit from 10 thousand to 200 thousand US dollars. There are tariff plans that span from standard to aggressive trading.
Leverage is up to 1:100.
Cons
Downsides of the prop trading firm's offering include:
You can only earn when you get to the professional account, unlike competitors such as The5%ers
Less initial capital volume available versus competitors such as Fidelcrest
Thorough, two-step evaluation process
No holding over the weekend
2 steps of testing instead of one, and instead of one month of trading, a trader has to work for three months.
Final Word On FTMO
FTMO is a prop company for traders with trading experience, hard testing conditions, and attractive conditions for those who go into real trading.
Prop fund trading is an interesting option for investors in 2022 looking to increase their capital, but be sure to compare firms to find the one best suited to your needs. FTMO's unique analysis apps and highly regarded customer support make it one of our top picks for traders looking to take their talent to the next level.