Why You Should Use Telegram Signal Copier?
Trading in the financial world can be quite a challenge, especially for those who are new to the game. To copy forex signals via Telegram is a very popular way for traders to benefit from the strategies of more experienced investors. However, manually executing each signal can be time consuming and error prone. This is where Telegram Signal Copier comes in.
Telegram Signal Copier seamlessly works with MT4 and MT5 to automatically copy forex signals into your trading account within seconds. It allows you to automatically copy trading signals from Telegram channels or groups into your MT4 or MT5 account. This can be a great way to save time and improve your trading results, especially if you are a beginner trader.
5 Benefits of Using TSC for Your Trading Strategy
Telegram Signal Copier provides many advantages for conveniently copying signals directly from Telegram:
Telegram Signal Copier is known for its incredible speed. Signals are copied to your MT4 or MT5 account within 1-2 seconds. This lightning-fast speed allows you to enter trades at the same time as the signal provider. You don't have to manually monitor Telegram for signals and then manually enter them into your trading account. TSC does all the work for you in a jiffy. 
Telegram Signal Copier offers affordable pricing starting at just $39 per month and provides a lifetime deal with just $99. You can even take advantage of a 10-day free trial period with remote support. Plus, the installation process is easy-peasy, so you can start trading instantly.

Right now, we have Biggest Sale running for Black Friday! You can now start using Telegram Signal Copier at only $29/month!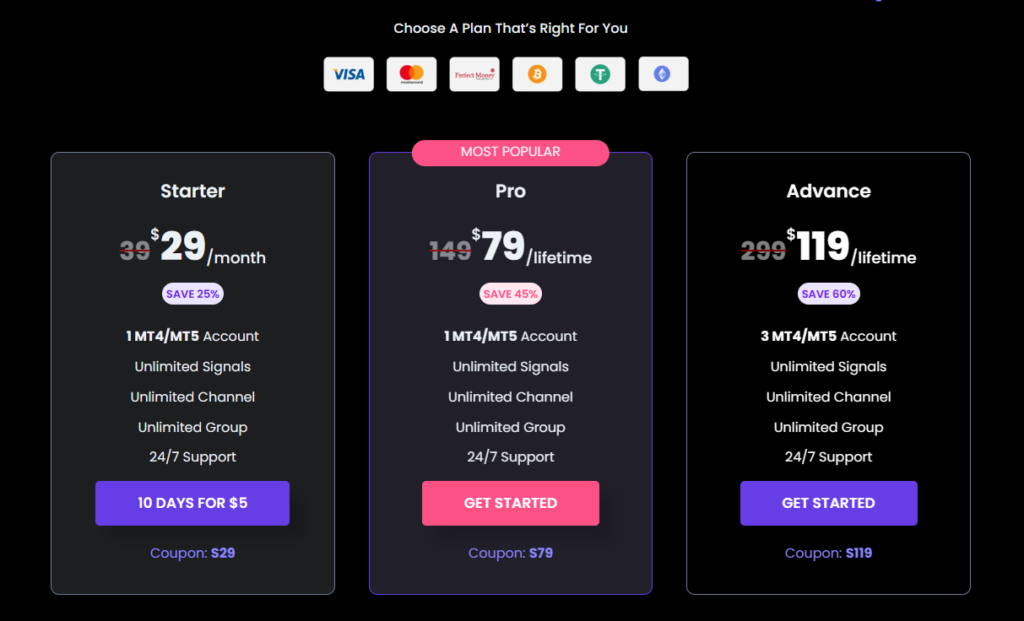 Telegram Signal Copier provides excellent 24/7 customer support through email, chat, and remote desktop access for troubleshooting. They offer remote support through Anydesk for free. The dedicated support team is always ready to help you with any issues. So, different time zones aren't any factor.
An out of the box advantage of TSC is its intelligent signal logic that recognizes any message format. So, if a signal is modified by the provider later, TSC will automatically update it on your MT4/MT5 account.
You can customize every aspect of signal copying as per your needs, including lot size, stop-loss (SL), take-profit (TP) and other parameters per signal provider.
Telegram Signal Copier automatically recognizes and copies any message format shared by the provider. No modifications needed. It can also read the pair names from pictures.
You can add and copy forex signals from an unlimited number of signal providers from Telegram channels or chats.
Features and Benefits
Versatility and Adaptability:
TSC can interpret signals in any format or language. It's designed to decode and copy forex signals from image-based signals, making it compatible with diverse signal sources.

Access to Channels and Groups:
Whether you prefer signals from channels or groups on Telegram, TSC can access them all from its app.

Custom Strategies:
Tailoring your trading strategies to match each signal source is crucial for success. With Telegram Signal Copier, you can create unique strategies that align with your preferences and risk tolerance.

Time Efficiency:
Time is of the essence in the forex market. Telegram Signal Copier saves you time by automating the trade execution process. It works 24/7, even when you're not in front of your computer.

Ultra-Fast Execution:
Achieving the best entry and exit points is vital for optimal performance. This tool offers ultra-fast trade executions, ensuring you never miss out on a profitable trade.
How to Get Started
Setting up Telegram Signal Copier only requires few minutes. You can check out our installation video from video. You can also take our FREE setup help from our support team.
Browse Telegram channels or groups and add the signal providers you want to copy.
That's it! Telegram Signal Copier will now automatically copy forex signals from your selected Telegram sources into the trading account. You can further customize settings like trade size, SL, TP and more based on your risk profile.
In summary, setting up a Telegram Signal Copier is a straightforward process that can significantly enhance your trading experience. It saves time, minimizes emotional trading, and customizable settings give you maximum flexibility.

So, why not give it a shot and see how it can benefit your trading strategy? You can also try our free trial to verify if it's really worth the shot or not which can't be found anywhere rather here in Telegram Signal Copier.