Take Your Trading to Next Level: Forex Signals
When you are new to forex trading, and you are in search of an accurate and legit forex signal service- you will find tons of Telegram Signals Channels in the market. However, we all find it very confusing and difficult to select the most profitable trading channel amongst hundreds, if not thousands. But, few amongst these forex trading signals groups share very accurate signals for different sessions and markets to over 50,000-100,000 followers.
So, it is a question of how we can trust Telegram Forex Signals Channels. How can we choose the best Telegram Forex Signals Channels? This is not an easy job, but there are a few things that we can do if we want to select the best forex signals channels out of the many. Regardless, of what forex pairs or assets you are trading in the market, there are different factors that you will need to take into account before purchasing any subscription.
In today's blog, we will focus on the factors that you need to consider if you want to get a reliable forex signals channel on Telegram. This blog will help you avoid scams and trade with professional traders.
What are Forex Signals?
Forex signals are trade analysis or trade entry points that are given by third-party providers or professional traders. Professional traders or experts use various technical tools and strategies to analyze the Forex market and identify potentially profitable trades. They then send out these trade recommendations to their subscribers, who can choose to either manually execute the trades or use an automated trading system to do it for them.
Forex signals can be sent via SMS in Telegram Channels, or through a trading platform. They usually include information such as the currency pair, the entry price, the stop-loss level, and the take-profit level. Some providers also include additional information such as the rationale behind the trade and the risk-reward ratio.
What are Telegram Signals Channels?
To understand how we can choose the best telegram forex signals channels, we should first understand what trading channels are and how they work. Telegram forex signals channels are groups on the Telegram app where traders usually share their trading suggestions with their subscribers or followers. Forex signals may include currency pairs, crypto, indices, gold, stocks, etc.
An expert trade team will share information about the market. You can decide whether to follow the signals that are being shared or not. It is up to you to take risks and open trading positions by following these forex signals. Now, let's get into the details of how Telegram Forex Signals Channels work.
How do Telegram Forex Signals Channels Work?
Telegram forex signals channels work by sending trading signals to traders or followers of a specific forex trading pair and asset. For example, a forex signals channel will tell you to enter a long/buy position on the EURUSD trading pair (forex) at 1.10000. They might also include Take profit and exit/stop-loss price with these signals.
Our main goal here will be to make profits from the price fluctuations in the EURUSD trading pair. You will make money if the EUR rises at this point while the USD loses value in relation to the EUR. You would then be required to set certain take-profit levels and a stop loss by the forex signals group.
The take-profit price may be a single target or multiple. It generally depends on the signal channel's trading strategy. The take profit price in our scenario maybe 1.15000 and 1.25000 They would be able to purchase additional USD in this manner. The possible stop-loss price is 1.09000. In order to prevent further losses, the position will be closed at 1.09000 with a slight loss.
Forex Signals Channels for Telegram signals usually focus on highly specific signals. This indicates that they would rather close the position and wait for a good buying chance to profit from if the market moved in the opposite way.
Additionally, you may automate your trades using Telegram Signal Copier and eliminate the need to manually initiate and close positions in the market. This app will help you in your risk management and money management.
How a Telegram Signal Copier Helps You?
The main benefit of using a remote trade copier is that it automates the trading process. This means that traders can focus on other tasks while the trade copier takes care of copy trades on trading accounts.
So, if you are someone who's looking for a passive income stream or you have a 9-to5 job and don't have enough time for trading-Telegram Signal Copier is the right choice for you!
Increased Efficiency: By automating the trading process, a remote trade copier increases the efficiency of traders. They no longer have to spend hours monitoring their accounts, which frees up time for other important tasks.
Multiple Accounts Management: A remote trade copier also allows traders to manage multiple accounts from one central location. This is particularly useful for traders who have multiple forex trading accounts and want to manage them efficiently.
Risk Management: With a remote trade copier, traders can set take-profit and stop-loss levels for each trade, which has an advanced risk management option that helps to manage risk effectively.
With Telegram Signal Copier, you will be able to set multiple strategies per channel in TSC.
However, the specifics of how to identify the finest trading signal groupings are covered in this blog. Do check it out for some of the best suggestions ❇️How to Identify Best Forex Trading Signal Telegram? – Telegram Signal Copier
Choosing a Forex Signals Provider
There are many Forex signals providers out there, and not all of them are created equal. Here are some factors to consider when choosing a provider:
Performance
Look for a forex signals provider with a track record of consistently profitable trades. You can usually find this information on their website or by contacting them directly.
Some forex trading signal providers would publish a trading report each month that included an overview of all the trades shared during that particular month.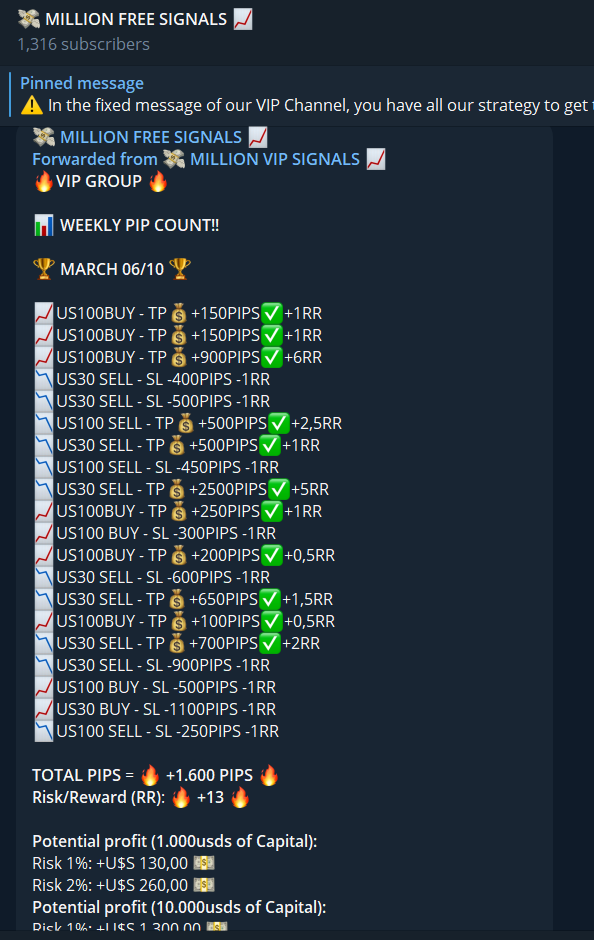 The report that follows was published by SureshotFX Signals–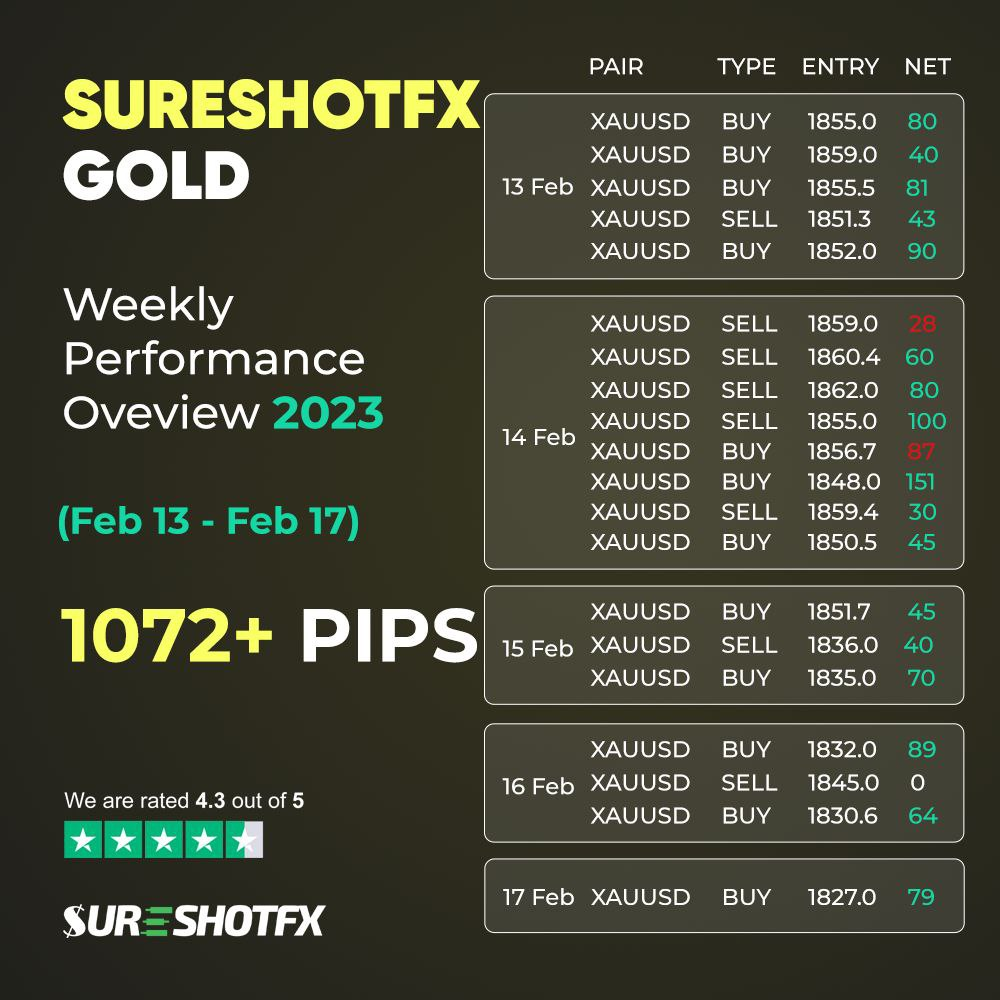 It's important to check whether the forex trading signals channel you've chosen provides regular reports in a timely manner, as some forex signals channel may not release reports or may take a long time to do so.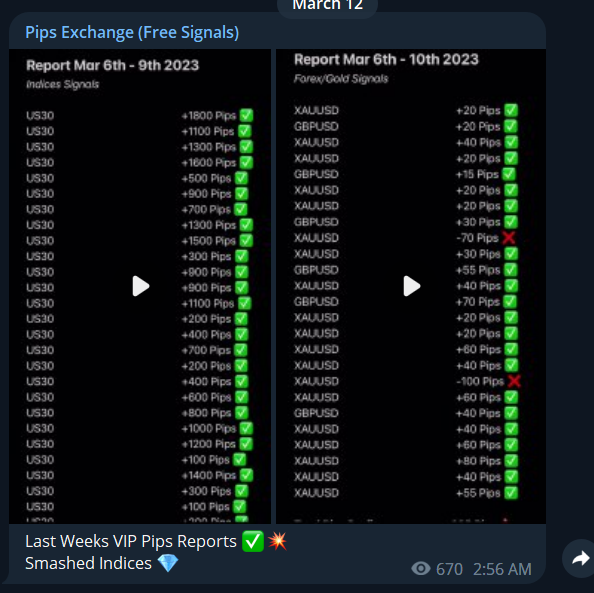 Transparency
Make sure the provider is transparent about their trading strategy and how they generate their signals. You want to know that they're not just randomly guessing which trades to make.
Some of the good signal providers post chart analysis, forecasts, or trade overviews in their free channel. These are very good factors to check the transparency of any forex signals provider or channel. Additionally, there are few forex signals channels or providers who will share their MyFXBook link or forex signals performance history.
In this way, you can get detailed information about every single trade executed and which things you should avoid in the future.
Customer Support
Choose a provider with excellent customer support. You want to be able to contact them easily if you have any questions or issues. A reliable customer support team should be available around the clock to assist you, especially if you are facing difficulties managing your funds on trading platforms.
A lack of an experienced customer support team can pose a problem for the forex signals group, leading to a negative impact on their credibility. However, some of the top Telegram forex signals channels have founders who manage the customer support team, offering traders peace of mind.
Having an experienced customer support team makes a significant difference in the credibility and reliability of the trading/forex signals group. It shows a serious commitment to providing high-quality service and support to its clients, which is crucial in the financial markets.
Experience
This is also an important thing to consider when you search for the best forex signals channels on Telegram. Experience is difficult to prove, but you will see this as soon as you start following trading signals. The more experienced the team behind forex signals channels, the better it would be for traders that start following you.
Without the necessary experience, forex signals channels would not be able to start even sharing signals with you. It is necessary to have experience managing different indicators and trading pairs. These expert traders would then improve on a regular basis the signals that are sent to subscribers.
With the necessary experience, forex signals channels could become very profitable over long periods of time. This can only be possible with traders that understand the markets and that have been working for several years in the financial industry. Otherwise, forex trading signals would only be sending signals without any type of financial logic.
Price
Forex signals providers can vary in price, so make sure you're getting a good value for your money. However, don't just choose the cheapest provider, as they may not provide the best quality signals.
There are also some providers offering Free service with their affiliated broker. These can be a good deal for both parties and the brokers are usually quite popular brokers.
Solutions Offered
When it comes to cryptocurrency, forex, and stock trading signals, there are several factors to consider beyond just the quality of the signals themselves. A good forex trading signals channel should offer a variety of solutions that can help traders improve their performance in the market.
In addition to providing high-quality trading signals, some of the best Forex signals telegram channels also offer trading bots. These bots are automated trading tools that can help traders execute trades more efficiently and accurately. By using trading bots, traders can reduce their risk and improve their chances of making profitable trades.
Another important factor to consider when choosing a trading signals channel is whether the company shares monthly reports. These reports can provide valuable insights into the performance of the signals and the trading strategies used by the channel. By reviewing these reports, traders can gain a deeper understanding of the market and make more informed trading decisions.
Many forex trading signals groups also develop in-house trading tools and indicators that can be used to improve trading performance. These tools and indicators are often created by experienced traders and can provide valuable insights into market trends and trading opportunities. By using these tools, traders can gain an edge in the market and increase their chances of making profitable trades.
Overall, it's important to choose a trading signals channel that offers a variety of solutions to help traders improve their performance in the market. By considering factors such as trading bots, monthly reports, and in-house trading tools and indicators, traders can choose a channel that best meets their needs and helps them achieve their trading goals.
Reviews
Reading reviews about a specific Forex signals Telegram channel is a must. This is especially important if you are new to the trading market. Why? Because many of the channels that are currently offering Forex signals are simply scams. This does not mean, however, that all Forex signals channels are scammers.
Indeed, some Forex signals channels are very professional, but others are simply scammers and are trying to steal your funds. If you see that reviews show that specific Forex signals channels are scammers, then you just simply need to avoid them.
Make sure you check the red flags that could appear in these reviews.
-Did the Forex signals share fail?
-Did the Forex signals channel simply stop working?
-Did you receive all the solutions that they offered you when you purchased the subscription?
These are some of the questions that you should search for when you read online reviews of these Forex signals Telegram channels.
Automated Trading Systems
Automated trading systems, also known as trading bots or Telegram Signal Copier, are essential tools for traders. They eliminate the need for manual execution of trades by automatically executing trades on behalf of the trader. This is particularly important for cryptocurrency traders, where the market never sleeps.
So, how does a signal copier work? They can be connected to trading signals in the market. Forex Trading signals channel must adhere to specific standards to ensure that trading bots can follow the signals and execute them automatically. These signals are typically sent through Telegram channels and include information about the trading pair, take profit levels, and stop-loss orders to reduce risk.
Investors should seek trading bots that are compatible with the signals provided by reputable Forex signals telegram channels. This way, they can take advantage of the market trends without having to manually execute trades themselves.
Followers
Wondering how to determine if a trading signals provider is profitable? One way to gauge their success is by checking the number of followers they have. However, keep in mind that a high number of followers does not necessarily guarantee the quality of the trading signals group as they could have fake followers.
If you find a trading signals channel with a considerable number of followers that is also very active, it could be a positive sign. Nevertheless, it's essential to verify whether the followers are genuine. Remember that this is only one factor to consider when choosing the best Telegram signals channel.
Conclusion
Forex signals can be a powerful tool for Forex traders, but they're not a magic solution to profitable trading. By choosing a reputable provider, understanding the signals, using proper risk management, and being disciplined, you can use Forex signals to improve your trading results. Remember, the key to success in Forex trading is a combination of knowledge, strategy, and discipline.