Telegram Signal Copier vs. PAFX Signal Copier: Who Wins?
For any new forex trader looking to
Reduce their workload and
Earn money without any effort,
a bug-free telegram signal copier is a godsend. In the age of cutting-edge technology, forex signal services have developed forex trade copier software. They help expert forex traders reduce headaches of traders.
What is a Signal Copier?
A telegram Signal Copier helps a forex trader manage forex accounts by copying telegram forex trade. Additionally, it helps to trade multiple accounts simultaneously. Thus, MT4 forex account management is simplified by the use of a forex telegram copier.
How to Choose Forex Signal Copiers?
Any forex trader can save time and effort in their thorough market study by using a forex signal copier. They are no longer required to hurl rocks into forecasts without thinking. The forex telegram signal copier to mt4 is available to everyone, not only novices and small-time forex traders.
Home Fitness d bol 5 Types of People Who Would Benefit from Apple's New Fitness+ Program
Firstly, traders should understand how the forex telegram copier functions. And find out the Best telegram forex copier to use for their investments before making a decision.
Secondly, it is very hard to find the best forex copier suited for your forex trading among other telegram trade copier out there. After all, it is a matter of a good amount of money and your investment.
We have done extensive research. And used our share of forex trade copier software available in the forex market. Let's take a deeper look into the best telegram copier available in the market today.
A comparison between PAFX signal copier and Telegram Signal copier (TSC).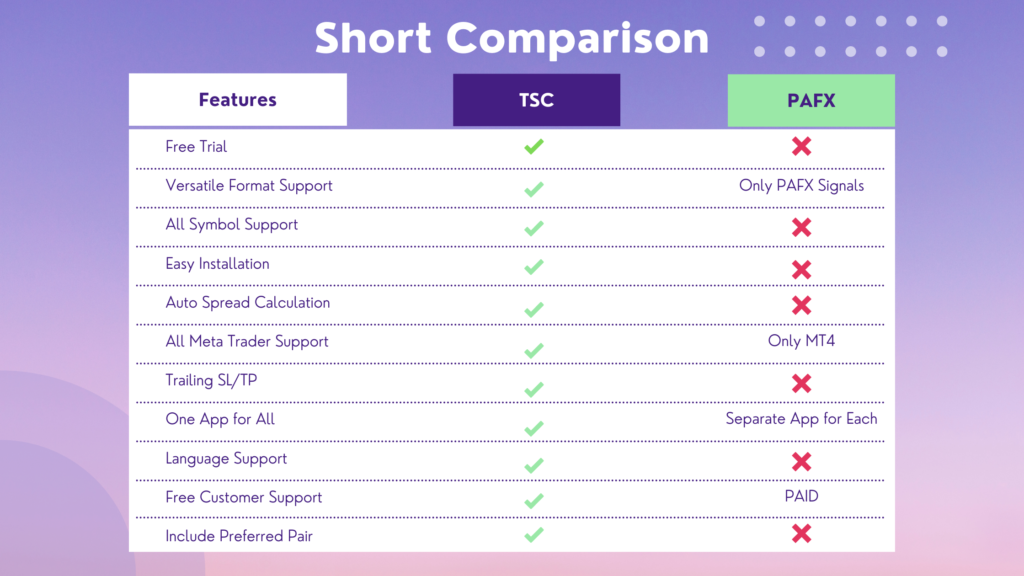 Telegram Signal Copier:
A forex trade copier software should be able to copy all the signals. And from multiple signal services to your forex mt4 or mt5 account smoothly. That is exactly what the Telegram Signal Copier does-  with Zero manual supervision required.
Telegram Signal Copier will automatically copy instructions from the signals. As well as, keeping track of the traders' necessary modifications, and execute trades on the master account for the trader.
Here are some KEY features of the Telegram Signal Copier-
Telegram Signal Copier offers a 10-DAYS TRIAL option for all. We are the only telegram forex copier software in the market that provides a TRIAL option. You can use the trial for both demo and real accounts. So, you know exactly what you are getting before you pay any sort of money!

After the trial, you can decide whether or not to get the Telegram Signal Copier. They have a dedicated 24/7 support team available. Always ready to provide any sort of assistance you need regarding their Telegram Signal Copier for FREE.
One of the fastest support and cooperative teams you will see so far! Moreover, Telegram Signal Copier installation requires only 1 minute of your time. With only 3 simple steps to install Telegram Signal Copier. 
Download the application file and open
Then press the Install button
Finally, press the finish button to start the telegram trade copier
Our telegram signal copier works on All Windows systems (32-bit/64-bit). If you work with another system (macOS or Linux) you can use a VPS.
Newbies dig it! Any kind of order can be automatically carried out. One TP or several TPs, SL, SL update, SL move to entry, half close, Partial close, Full close, Set BE, and many more! Forex trading automatically is more effective when all of this is combined with risk management.
Detailed Comparison of Telegram Signal Copier vs. PAFX Signal Copier:
TSC vs PAFX Signal Copier:
1
Telegram signal copier has Trial Option
PAFX signal copier has no Trial option.
2
Telegram signal copier can copy all formats of signals and all languages. It does not matter, whether it's an image or SL/TP is not arranged.
For more details, you can check this video 👉 TSC Copies All Signals
On the other hand, PAFX signal copier will only copy specific signal format and it may fail to place an order if there is any sort of misplacement of the pair name, SL/TP.
3
Telegram Signal copier has the customization option to trade a specific pair of your choice.

For example, if you want to trade GOLD (XAUUSD), include this in their copier settings.
PAFX signal copier does not have a customization option for the signal you want to trade.

You will have to input all the other forex pairs, one by one to their exclude option and it is a time-consuming process for any trader.
4
Telegram signal copier installation is only three clicks process.
PAFX signal copier installation has a very long process of installation to license validation etc.
5
Telegram signal copier has auto spread calculation. Even, when your signal services update SL/TP later, the spread will be calculated by this telegram trade copier.
PAFX signal copier does not have such a feature, so there's a chance to hit SL before they do
6
Telegram signal copier supports both MT4 and MT5
In contrast, PAFX signal copier will support only MT4
7
TSC works with all brokers using the mt4, and mt5 trading platforms. So, you know for sure that no matter which broker you use, you are on your way to a stress-free trading experience
Likewise, PAFX signal copier also supports all brokers, only with the MT4 platform.
8
You can manage multiple trading accounts with only one telegram signal copier app.
You will need multiple PAFX signal copier apps to manage multiple trading accounts. You will need more CPU and RAM to operate so many applications at the same time.
9
Telegram signal copier license creation will be in your hand and there will be no time lag to start your automated trading.
PAFX signal copier will require additional 24-48 hours to create your copier license and provide you the access to pafx signal copier.
10
You will be able to modify your mt4 trading account details anytime and include or exclude mt4 accounts the way you want.

So, no need to wait for any support or third-party assistance- Your Time = Money, and Telegram Signal Copier know that!
Then again, You will need copier support to add or change your account and have to pay an additional charge to modify your accounts through them.
11
In the telegram signal copier, you can set your close half/partial according to your choice.
So, whether you want to close a full lot or a partial, you can modify it in our telegram trade copier.
This feature will help small trading accounts i.e. $100-500.
PAFX signal copier does not provide you similar modification option.
12
Telegram signal copier supports all signal providers around the world. One investment will provide you with multiple options for your investment.

You can even copy instructions from the signals Free signals of Priceaction Ltd signal channels and others.
With PAFX signal copier, you are able to copy the VIP signals provided by Priceaction ltd.

You cannot use the copier for any other services or copy free signals.
13
Telegram signal copier has dedicated 24/7 free customer support.
You will have to pay an extra $15 to get PAFX signal copier-related support from Priceaction Ltd.
14
The telegram signal copier will copy all copy instructions from the signals from your signal provider.

For example, if your signal provider is from Nigeria or another country and uses a different word for TP or SL or move SL to Entry, the telegram signal copier can also copy those orders,
PAFX signal copier will only copy some specific orders.
15
The telegram signal copier has a trailing SL/TP option, so if you follow signal channels that have multiple TP, your telegram trade copier software will copy that into your MT4 account.
PAFX signal copier does not include the trailing SL/TP option.
16
You will get the trial option with the Telegram signal copier and the subscription starts only with only $39 for 30 days.
Eventually, you will get 37 days with a Telegram signal copier for $39.
There is no trial option with PAFX signal copier and you will have to purchase PAFX signal copier for $47 along with their signal service starting at $119.
How Much Does it Cost?
Now you must be thinking that all of this must cost a fortune! Well, you are wrong! Along with 10 DAYS TRIAL of telegram signal copier at only $5. You are getting 1 month of telegram signal copier at only $39. You can go pro with their $89 deal which allows you a total of three mt4/mt5 accounts!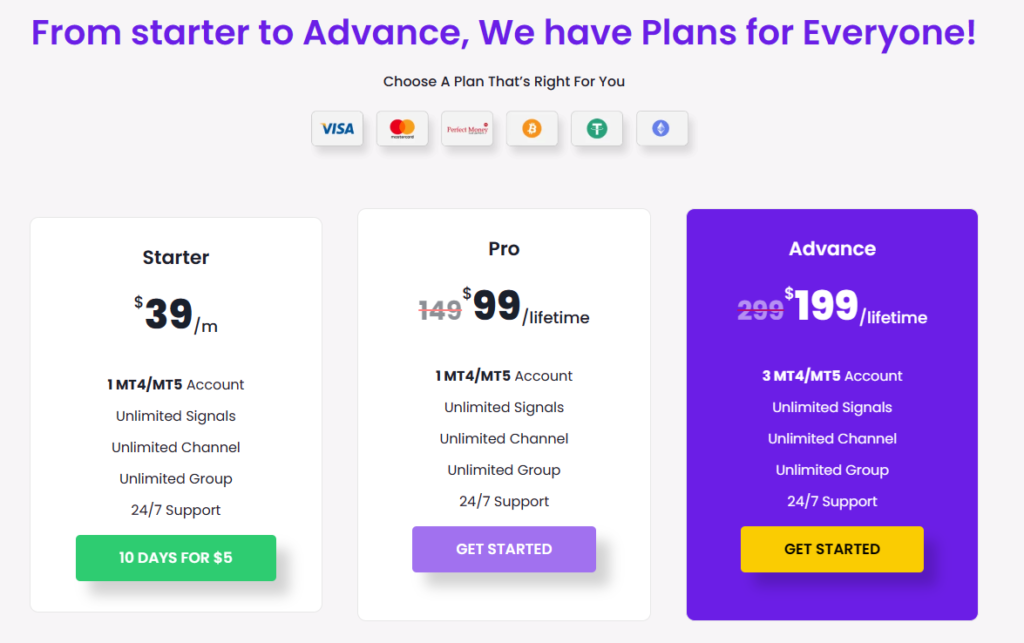 Telegram signal copier also has LIFETIME subscription deal with access to5 mt4/mt5 accounts. Also, all of the subscription has unlimited forex trade, unlimited telegram forex signal channels. And cherry on top-24/7 telegram support for all your needs!
With a growing number of forex traders using Telegram Signal Copier, we have received several appreciations for our extraordinary service to the forex trader community.
But you do not need to take my word for it. Try and test Telegram Signal Copier FREE for yourself and become the best forex account manager. Anyone with proper guidelines and attitude can start trading with $100 with the help of Telegram Signal Copier growing a small forex account is EASY AND EFFORTLESS!
Conclusion:
Now, the final verdict! Every forex trader wishes to make an unlimited profit in this massive financial market. However, analyzing every market movement and setting the trade requires intense skills and patience. It is also impossible for traders to do so.
As a result, forex signal copiers enable retail, experienced, and inexperienced forex traders to trade like professionals in the forex market.
Forex trade copier software is created with the help of highly experienced traders and trade analysts who constantly monitor the forex market and provide the best services to their clients.
A forex trader will almost certainly lose money as an amateur due to a lack of experience and skill. Hence, our software not only simplifies the difficult task of trade analysis but also generates the best profit opportunities.
If you are new to the forex business and want to start trading with $100 or are a major player looking for a passive money stream, I would suggest you try Telegram Signal Copier. This will provide you the freedom of choice and managed forex accounts by an automated system or telegram forex copier. You will be able to choose your preferred forex signal.
Similarly, beginners who have no prior knowledge of forex but wish to profit from it. In fact, the telegram signal copier is a gift because they don't have to do anything but rely on experts. That is why the forex signal copier remains popular among traders.
To conclude, the Telegram signal copier has much more to offer in terms of price and service than any other forex telegram copier or telegram to mt4 / mt5 copier. We offer better and customized prices suited for your need, everything is automated and our support team is not paid.
SO, CHOOSE WISELY! 😉